This just in! Flash report from the Bike Smut news desk!
Faithful monogamy is at the very heart of a designed and purposeful order – as conveyed by Jewish and Christian Scripture, by Classical Philosophers, by Natural Law, and by the American Founders – upon which our concepts of Creator-endowed human rights, racial justice and gender equality all depend.
Election season is somehow already beginning back in the Bike Smut homeland of the USA, and this means POLITICIANS. Politicians who firmly believe that the only way to improve the world and fix the ills of society is to use the violent power of the state to force all people to conform to arbitrary and impossible moral codes.
And thus we now have the first bold anti-porn attack of the election season: Michelle Bachmann and Rick Santorum, right-wing candidates for the Republican presidential nomination, have made a solemn pledge to ban pornography if elected president. The two politicians were the first to sign the 'The Marriage Vow', quoted above, a pledge which requires that its adherents recognize that married people have better sex, that the greatness of America depends on its women having as many babies as possible, and that homosexuality is a dangerous disease. And of course, that the only way to 'protect' women is to save them from the sight of pornography:
Humane protection of women and the innocent fruit of conjugal intimacy – our next generation of American children – from human trafficking, sexual slavery, seduction into promiscuity, and all forms of pornography and prostitution, infanticide, abortion and other types of coercion or stolen innocence.
Poetically put, Religious Right.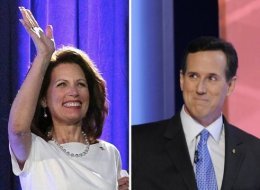 As pornographers ourselves, we are well aware that we are different from baby killers and slave runners. The stupidity of these anti-porn politicians is obvious enough that it needs no discussion. The one question we have to answer, as insurgent bikesexuals, is, when politicians try to take control of our sexuality, how can we fight back? How can we resist? Make your own porn! Only by creating our own sexuality can we prevent politicians from ever taking control of it.
LONG LIVE BIKE SMUT – DEATH TO THE INNOCENT FRUIT OF CONJUGAL INTIMACY!